Premiere Sage 300 Consultancy Acquired by Technology Advisor Net at Work
Latest acquisition further expands the Net at Work Sage 300 practice, support and services for Paragon Consulting Group customers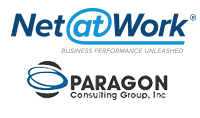 NEW YORK – June 19, 2023 – Net at Work, North America's largest provider of next-generation, digital operations platform technology solutions for the mid-market, today announced that it has acquired Paragon Consulting Group, Inc., a Sage 300 ERP consultancy based in Chicago, Illinois.
This acquisition further strengthens Net at Work's Sage 300 practice, bringing added technical expertise and bolstering the services and next-generation solutions available to Paragon customers to help unleash the power of their business. Key members of the Paragon team will join Net at Work, enabling a seamless transition for its Sage 300 user base to include uninterrupted services and support.
"We are delighted to welcome Paragon's staff and customers to the Net at Work family," said Alexander Solomon, co-founder, Net at Work. "We look forward to not only assisting these customers with their current solutions, but exploring the benefits of next-generation technologies that will enable them to keep pace with competition, win new customers, improve profitability, and thrive in the digital economy."
"Net at Work is known as a leading technology advisor among small-to-medium sized businesses. We believe that no other company can provide our customers with the premier level of support, service, and care that Net at Work can," said Chesi McCann, president, Paragon Consulting Group, Inc. "We are thrilled to unite with such an esteemed technology partner."
About Net at Work
Founded in 1996, Net at Work is one of North America's largest SMB technology advisors. Our award-winning consultancy offers a rich portfolio of next-generation technology, industry expertise, and services to help organizations derive value from the transformative benefits of technology. Through the integration of ERP, HRIS, and/or CRM solutions, Net at Work builds unique, industry-specific digital operations platforms that enable companies to compete more effectively in today's digital economy. For more information, visit www.netatwork.com.