Magento eCommerce Integration for Sage 300 ERP
Magento eCommerce seamlessly integrates your website with Sage 300 ERP to "push and pull" data including product details, inventory levels, payment and shipping, customer information, sales orders, and status updates. The information exchanged is securely and automatically synchronized between Sage 300 ERP and Magento.
This complete integration of Sage 300 ERP and Magento eCommerce reduces time, effort and expense related to order fulfillment, leading to fewer late shipments, returns, and canceled orders. Your Total Cost of Ownership is reduced through streamlined business processes and IT infrastructure. As a Cloud-based service, the integration works through webservices, a database connection, or file import and export giving you the ultimate flexibility in connecting your Sage 300 ERP system to Magento.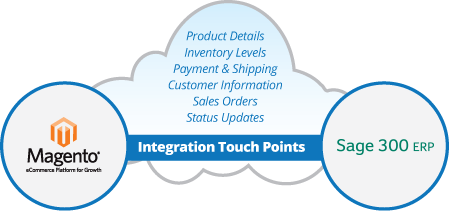 Contact us to learn more or to schedule a demonstration of the Sage 300 ERP Magento Integration.
The Magento integration is also available for Sage ERP X3, Sage 500 ERP, Sage 100 ERP and NetSuite.
Visit Web Solutions for our full portfolio of Web development capabilities.