BizNet™ Excel® Business Information Suite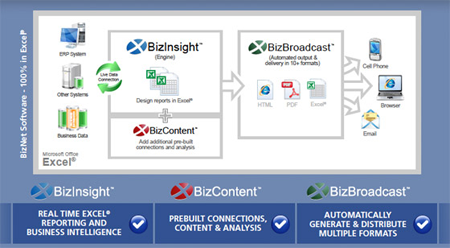 The BizNet™ product suite is a business reporting and analytics platform that provides real-time access to your business data from Microsoft® Office Excel®. It delivers simple, yet powerful capabilities to anyone who uses spreadsheets to gather and analyze business information. It also gives you the ability to create a single Excel® template for multiple report generation. The BizNet™ product suite empowers end users with the ability to get immediate answers to questions without the usual challenges of gathering and refreshing the source data.
Features and Benefits:
Simple
Real Time reporting
100% Excel®
Leverage Existing Spreadsheets
Drag and Drop Report Creation
Pre-built Connections, Content, & Analysis
Utilize Single Excel Template for Generating Multiple Reports
No Additional Hardware Required
Fully Deployed in Less Than a Day
Powerful
Report from Multiple ERP Modules
Consolidate Information from Multiple Databases
Drag and Drop Multi-Dimensional Analysis
Automatic Creation of PivotTables™ for Detailed Analysis
Drill to Transaction Detail
Generate Reports Faster with In-Memory Caching
Alerts and Conditional Delivery
Provide Workbooks that Decision-Makers Can Refresh and Filter Themselves.