Saleslogix enables your sales, marketing, and customer service/support teams to collaborate and respond promptly and knowledgably to customer inquiries and sales opportunities.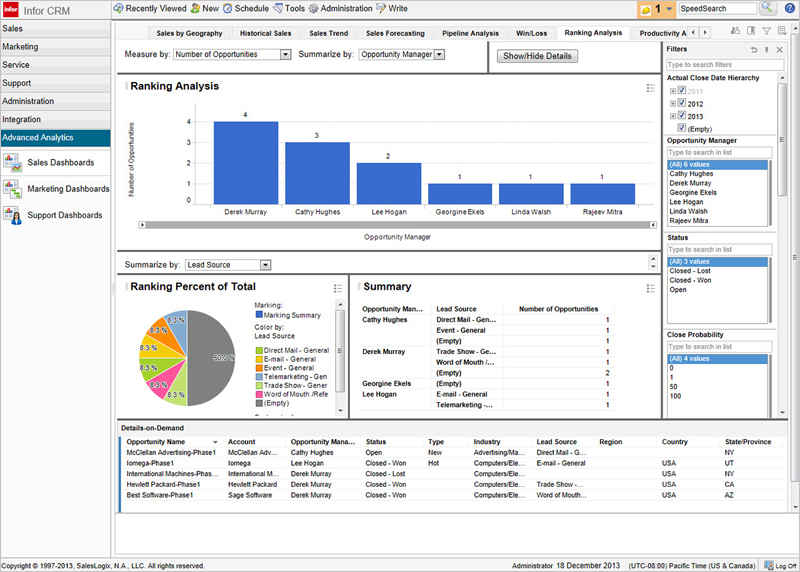 ---
Saleslogix CRM version 8.0 is here! Key Highlights and Video Overview
Net at Work is one of the leading authorized Saleslogix CRM business partners and resellers in the country. We have the IT, business and software experience you need to make large-scale CRM implementations succeed. We support clients across the nation via our offices in New York, New Jersey, Connecticut, Boston, North Carolina, Texas, Seattle and Wisconsin.
Saleslogix provides robust functionality out of the box, and your team can ramp up quickly with the intuitive user interface and time-saving features. With easy-to-use Saleslogix CRM software, your teams will actually want to dive right in—and become more productive as a result. You can select from flexible deployment options with confidence, knowing that Saleslogix will grow with you as your business needs evolve, giving you the freedom to move from hosted to on-premise as needed.
New- SalesLogix Cloud
Saleslogix Cloud offers you the best of both worlds—a full-featured, standards-based CRM solution with full ownership and control of your data combined with the attributes of a SaaS CRM solution like payment flexibility, access to data online, and the ability to get up and running quickly.

 Learn More
Full-featured CRM solution
Secure solution hosted in a world-class infrastructure
Low monthly price and flexible billing options
No separate hardware costs
You own your data and can take it with you
You choose when to deploy software upgrades
Integration with your other business applications and web services
100 GB of storage for every 50 users
Enterprise-class support including provisioning, backups, hosting infrastructure support, and Windows and database maintenance
Anytime Learning online training for your end users