25Founders: What Significant Investments or Significant Changes Are You Planning for 2014 and Why?
In the November/December 2013 edition of the 25Founders series, a collective of top New York entrepreneurs, members in this month's NY Enterprise Report magazine talk about significant investments or changes planned for 2014.
When asked, "What significant investments or changes are you planning for 2014 and why?" Edward Solomon, Net at Work co-founder replied: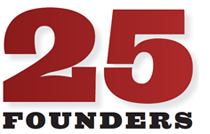 One of our major goals for 2014 is top-line revenue growth. We plan to achieve this with a three-prong strategy.  The first strategy is through the organic growth of all our practice areas by continuing to enhance our marketing and direct sales efforts. 
Our second strategy is the expansion of our "Partner Alliance & Referral Program," which will allow us to build relationships with other IT and professional services firms, offering them a platform wherein they can promote and seek out solutions to their client base. 
Lastly, we continue to seek strategic acquisitions in order to increase our geographic footprint, and most importantly, to add experienced talent to our team.
Visit the New York Enterprise Report for answers by other top NY Entrepreneurs and 25Founders members.