Employer Solutions / HRMS Newsletter – July 2018
Keeping You Up-To-Date With Information About Employer Solutions / HRMS
Employer Solutions Employee Spotlight
By: Net at Work Team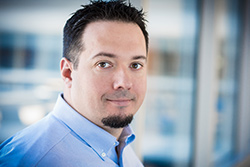 An Interview with Jason Hancock, Senior Field Account Executive

Jason joined Net at Work Employer Solutions Practice in May of this year.  He has over 13 years' experience successfully driving top line revenue. Adept at rapport building, client needs analysis, negotiation, and intent listening – all to foster iron-clad relationships with C-level executives and strategic partners. Jason's focus in Employer Solutions is new customers as well as working with clients of other Net at Work practice areas looking for HCM solutions.  Jason holds a Bachelor of Science in Business Administration and Management, Cum Laude, from Bridgewater State University and resides in Massachusetts.
Memorable Work Experience
Jason's largest deal involved selling commuter benefit administration services to the New York Times organization.  Over a two-year sales cycle, Jason met on a regular basis with the Executive Vice President of HR as they reviewed other resellers and direct competition.  Jason's also reached out to the not-for-profit organization, Clean Air New York, to bring in their expertise.  Clean Air New York is committed to reducing the carbon footprint of businesses in New York and was a natural ally to encourage use of commuter benefits.  For his final meeting, Jason brought together the New York Times team with Clean Air New York, creating a great win for both organizations. And successfully closed the deal for his company.
Surprising Fact about Jason
Jason told me he is an avid sport fisherman.  I asked him if that included fly-fishing and he laughed.  'Anything but!', he said, "Sport fishing is about targeting structures in the water and being strategic in your approach in terms of bait and technique."  Now it was my turn to laugh.  It sounds like Jason applies his work style to his recreation as well.
What's on His Bucket List
Jason told me he is planning a European family reunion that would encompass Austria, Italy and Romania.  Speaking of family, I couldn't help asking the obvious question.  Living in Massachusetts, was Jason any relation to John Hancock?  Sadly no, he said, but he did have a funny story.  Once, during a sales call with executives at John Hancock headquarters in downtown Boston, his family name came up.  "So, I guess if I came to work for you," he remarked, "my email would be jhancock@jhancock.com, right?"  Everybody laughed, and they agreed that he would certainly be their best sales person with that contact information.
---
This Summer, Net at Work is hosting User Group meetings for our Employer Solutions clients. Come join us in one of the three locations, meet other users and hear the latest in HR and Payroll news from experts. Learn more about talent acquisition and on-boarding tools and meet and discuss your needs with experts from our software publishers.
July 19th |  Boston MA
August 23rd  | Tampa FL
September 12th  | Atlanta GA