Abila Grant Management
Increase grant funding and measure your true impact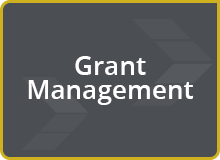 ---
This web-based grant-receiving solution uniquely combines development, contact and financial data to improve grant pipeline oversight while optimizing success. Reporting and trend analysis become efficient and effective, giving you more time to serve your missions, donors and communities.

What's New In Grant Management version 2015.1 (PDF) >>
Reports & Queries
Filter transaction amounts by a custom date range when reviewing grant period revenue and expenses, and suppress lines with zero dollar amounts from displaying within the application.
Grant revenue and expense categories are now hyperlinked so you can view key balance information for a specific category, rather than having to open and expand the details grid.
New reports for grant notes and comments, and period segment code mappings are available in the reports tab.
Grant sub-stage now appears on the Grant Status report and the Grant Status by Owner report.
Data Entry & Usability
You can now record and report on the expected funding dates for grant applications.
The View Details button has been relocated to a more prominent and accessible location on the grant revenue & expenses tab.
Within Programs, the awarded and available amounts for grant periods will assist you in tracking and distributing grant funds appropriately.
Set up specific days and times to sync balance data with Abila MIP Fund Accounting. A new subsection of the Integration Preferences page will display synchronization history and any errors that have occurred.
Expand and collapse grant, program, contact, and organization lists with one click, allowing you to easily access additional information about these records.
If you install the Abila Cloud Integration Services utility, you can integrate an instance of Abila MIP Fund Accounting on-premises with an instance of Grant Management in the private cloud.
Learn about our other Nonprofit Solutions
Abila MIP Fund Accounting
Abila Fundraising 50
Abila Fundraising Online
Abila Grant Management
Abila Millennium
Abila MIP Advance
Abila Elevate