FileBound On-Demand™
Reducing capital investment with FileBound On-Demand allows you to enjoy all the advantages of a complete document management system without the upfront capital investment of an installed solution. You get all the benefits of a unified, scalable solution without the high costs, risks and complexity normally associated with document management software.
Every aspect of the FileBound On-Demand solution was designed to enable rapid end-user adoption and results. With its intuitive web interface, this low cost solution is simple to learn and use. FileBound On-Demand is immediately productive and profitable. Subscribing to FileBound On-Demand provides access to our back-up/redundant infrastructure and our technical support staff. The FileBound Data Center is co-located within a carrier class facility with access to multiple telecom carriers, redundant power sources and world-class security.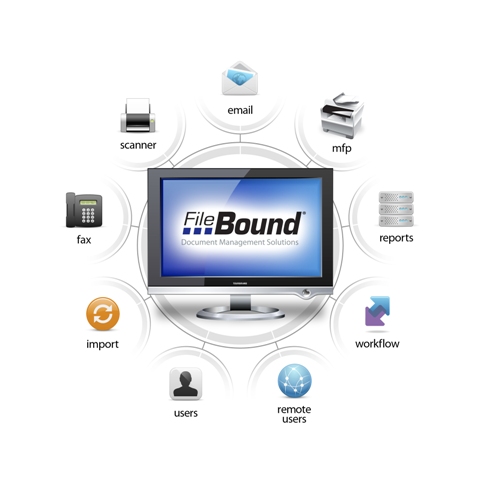 The FileBound On-Demand advantage delivers seamless installation; no maintenance hassles and upgrades are automatic!
Imagine your critical corporate documents, secure and accessible from anywhere in the world. Start using the power of the Internet to drive your document management strategy today.
With FileBound On-Demand you can:
Track the location of paper files. Record check in-check out activity, perform physical audits, notify users of pending requests and manage requests for files stored off-site.
Scan paper documents in order to create digital images. Index the images using OCR, barcode recognition or data entry.
Store any digital file seamlessly in a system folder along with paper locations, microfilm locations, scanned paper documents and system generated electronic forms.
Retrieve any record by a database query that points to all the associated information for that record.
Reproduce the information stored for any record via printers, fax, e-mail or self-executable CD.
Create Workflows that can streamline and reengineer work processes.
Generate and manage Electronic Forms to eliminate the cost of preprinted forms and automate the filing process.
FileBound On-Demand New York (NY), FileBound On-Demand New Jersey (NJ), FileBound On-Demand Connecticut (CT), FileBound On-Demand Rochester (NY), FileBound On-Demand Albany (NY), FileBound On-Demand Syracuse (NY), FileBound On-Demand North Carolina (NC), FileBound On-Demand Raleigh (NC), FileBound On-Demand South Carolina (SC), FileBound On-Demand Virginia (VA), FileBound On-Demand Pennsylvania (PA), FileBound On-Demand Massachusetts (MA), FileBound On-Demand Boston (MA), FileBound On-Demand Texas (TX), FileBound On-Demand Dallas (TX)