Employer Solutions / HRMS Newsletter – June 2020
Keeping You Up-To-Date With Information About Employer Solutions / HRMS
Employer Solutions Client Spotlight: Goodwill Industries of Dallas
By: Net at Work Team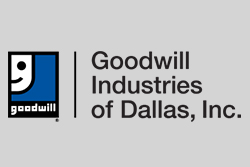 Introduction
For over 90 years, Goodwill Industries of Dallas has been committed to providing job training and employment to those with disabilities and disadvantaging conditions. Over 4,900 individuals have earned a job with Goodwill's help and over 6,800 North Texan residents have been provided education, job-related and employment services.  Not the least of their services, Goodwill Dallas has diverted 29 million pounds of material from landfills and into reuse and recycle.
Value-Unleashing Coaches
Goodwill Dallas approached Net at Work in 2017 concerning their HR and payroll needs.  They were long term users of Sage Abra Suite but had grown dissatisfied with level of support they were receiving.  Mark Welch, CFO of Goodwill Dallas, related a story that every time they ran the Abra Suite payroll, they received and ignored an error message sixteen times.  "Not 15 times and never 17 times, exactly 16 times," Mark said," Payroll just learned to live with it."
Goodwills are unique employers in that often time they provide work to their disabled and disadvantaged clients in addition to services.  Goodwills 'walk the walk' as employers.  Net at Work is unique in the number of Goodwills they serve across the country.
When Goodwill Dallas began to work with Net at Work, they realized that our team of sales and consultants exhibited situational fluency with respect to their unique needs.  Our team has worked for years with non-profits, and especially Goodwill Industries clients, and immediately understood their special systems of piece rate payment and timekeeping needs.
Since Goodwill Dallas was also a Sage 300 ERP user, Net at Work could reach out within their ecosystem and provide cross product expertise that was missing with other service providers.  Net at Work could act as a collaborative integrator without 'finger pointing' at the other systems.
Promise Keepers
In speaking recently with Mark Welch,  it was clear that the work done during the discovery process by Account Manager Nicole Johnson and the demonstrations done during the sales process in 2019 were instrumental in convincing Goodwill Dallas to migrate to Sage HRMS ahead of the announcement of Sage Abra Suite's end of life.
At that time, Sage had not yet to announce a specific end of life date for Abra Suite and some organizations were vacillating on whether to migrate.  As Mark put it, "Net at Work got us out of the Abra Suite box before the announcement."  That gave Goodwill Dallas time to undertake the migration on their terms. Even a project of their complexity, with their first non-paper timekeeping system, deployment of Employee Self Service and HR Actions could be done successfully, Net at Work promised.
Problem Solvers
As the migration of Sage HRMS, ESS and HR Actions began there were the usual steps and milestones along the way.  However, Mark recalled a special situation just days before they went live with the payroll.  Sage had made a change in an update and it had the effect of dropping over 75 direct deposit accounts.  Net at Work consultant Sue Ermatinger was able to recover the data and import back into the system in time for the first payroll to be a success.  As Mark pointed out, "Many of our employees, like others, live paycheck to paycheck.  Net at Work made sure everybody was paid correctly that day."
Sage Time and Attendance program was another challenge for an organization that was using timeclocks "dating from the Second World War", according to Mark.  As Sage Time and Attendance was being deployed, it was clear that a phased approach would make the program more successful.  Lynda Dixon from Net at Work worked with Goodwill Dallas to design a rollout that made sense for them.  It was not a 'one size fits all' situation and the Net at Work team responded with flexibility and creativity.
Then Came Covid-19
Just as Goodwill Dallas was finishing up their final phases of migration, the pandemic hit.  They immediately contacted Net at Work to determine how best they would be able to continue to pay their employees.  Sue Ermatinger and the team at Net at Work moved quickly to develop the payroll procedures, rules and reports for Goodwill Dallas – weeks ahead of an official response from the publishers. Goodwill Dallas set up sick leave plans that were later rolled over into EFMLA plans for their employees.
Having deployed Sage Time & Attendance and Employee Self Service, Goodwill Dallas was able to maintain contact with employees during the lockdown – tracking time for employees working from home and getting direct deposit advices to employees, among other things.
Goodwill Dallas applied for and received a PPP loan from the SBA to continue their operations.  Net at Work continues work with them to assist in the required reporting for the loan, as well as quarterly reporting and at year end.  Recently, Net at Work published a bundle of Crystal reports designed for payroll users who need to gather data for loan forgiveness as well as other reporting related to paid leaves.
Glad They Moved
Mark told me that in retrospect, they probably should have started the migration sooner and set firmer deadlines.  However, he was glad that they were as far along as they were when the pandemic hit.  Most of the HR-related tasks of the migration had been complete and they could focus their efforts on supporting employees during the lockdown.
As Goodwill Dallas begins reopening their 17 stores and warehouse, they know that they can rely on Sage HRMS to support their HR, timekeeping and payroll needs.  And Net at Work will be behind them with our team of professionals.
To find out more about Goodwill Industries of Dallas, you can visit their website at https://www.goodwilldallas.org/ .  To find out more about Net at Work and how the Employer Solutions practice can help you unleash the potential of your company, you can visit our website or call 1-800-719-3307 to learn more.