Employer Solutions / HRMS Newsletter – October 2020
Keeping You Up-To-Date With Information About Employer Solutions / HRMS
Employer Solutions Client Spotlight: Great Bay Distributors, Inc.
By: Net at Work Team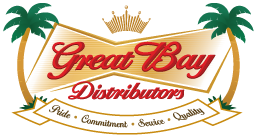 Located in Saint Petersburg Florida, Great Bay Distributors is a 3rd generation owned independent beverage sales, marketing, and distribution company.  Dedicated to local breweries and regional craft beers, Great Bay is Florida's largest independent family owned distributor of Ambev/Anheuser-Busch, Corona and Yuengling brands.  They are on the Internet at www.greatbaybud.com and social media at @greatbaydistributors.  For many years, Great Bay was a client of Dresser & Associates, Inc. and became a client of Net at Work when Dresser & Associates was acquired by Net at Work in 2016.  They use Sage products to manage their HR and payroll functions.
Problem Solvers
After years of using Sage Abra Suite, Great Bay knew that they needed to upgrade and modernize their system.  Working with their account manager, they decided to migrate to the premier on-premise Human Relations Management System, Sage HRMS.  Historically, they had worked very successfully with a Net at Work consultant who was local and came onsite when needed to advise or assist in resolving issues.
At about the same time as Great Bay began its migration to Sage HRMS, Net at Work was embracing remote support for clients.  A team of consultants was pulled together to support Great Bay Distributors.  Although lead consultant,  Sue Ermatinger, lived and worked thousands of miles away, via remote access she brought new ideas and a new perspective to the Great Bay migration.
In conjunction with her on-site partner, Senior Consultant Dan Fahey, Sue was able to successfully shepherd Great Bay through the migration, improving the functionality of the HRMS to better enable HR and Payroll to perform their functions.  Sue provided ongoing support as the personnel in the Great Bay team changed over the years.
She continues to advise and assist the Great Bay team as they deal with new issues like COVID-19 and its effect on payroll.  Sue continues to be a driven intrapreneur – a creative thinker, optimistic and self-confident – as she and the Great Bay team meet the challenges together.
Collaborative Integrator
A little over four years ago Great Bay came to their trusted advisor, Net at Work, with a new issue.  They realized that their method of timekeeping was inadequate.  It was difficult for employees to clock their time, especially the drivers making deliveries.  Inaccurate timekeeping meant wrong paycheck amounts and too much time spent checking and correcting.
Over years of working together, Account Executive Nicole Johnson had developed a strong relationship with the HR and payroll team at Great Bay.  When Net at Work was looking for a location for an Employer Solutions team meeting, Nicole approached Director of HR Sandy Ho with the idea of meeting in Great Bay's conference room.  Sandy readily agreed and it was a great way for all the Net at Work team to see and understand better the day-to-day workings of a client's business.
The timekeeping project was different.  Nicole had to develop new relationships and work with the Finance department and the Director of Finance, Mark Goodwill.  Nicole demonstrated situational fluency as she worked with Mark to develop a proposal for Sage Time and Attendance.
For some, it might have been difficult to leave their "comfort zone" of HR and payroll, but Nicole stepped in and was able to convince Mark and his team that Sage Time & Attendance made sense from a financial perspective.  Then she collaborated with payroll and HR to bring them together on the final decision.
The result has been that now drivers could take advantage of the latest technology and record their time on their mobile devices from their route.  The system is easier for employees and more efficient for all parties – giving Great Bay a great return on their investment.
Value-Unleashing Coach
An HRMS is simply a tool that effective HR departments use to accomplish their mission.  The purpose of an HRMS is to make the transactional activity of the department as seamless as possible: recording time, paying employees, managing benefits, reporting and compliance.
To the extent that an HRMS can make these important but time-consuming tasks easier, it unleashes an HR department to address the other pressing issues of employee relations and engagement, recruiting, succession planning and cost reduction.
Never has that been more true than the current COVID-19 pandemic.  According to Sandy, she has spent a great deal of her time this year communicating with employees and their families.  This is an uncertain time and employees are concerned.  Great Bay has a strong and supportive corporate culture but the changes in how and where people are doing their work has been a strain.
Although economically the beverage industry remains very strong, Sandy is dealing with employees who have had to change how they perform their jobs. Some employees are even considering whether they want to remain in a job that is routinely in contact with the public.
Knowing she has the HRMS systems – and the trained staff to administer them – has freed her up to maintain the culture, assure employees and continue to make Great Bay successful.

To learn more about how Great Bay Distributors has been successful during the COVID-19 pandemic and the role their HRMS systems played, Net at Work hosted a discussion on October 7th with Sandy Ho, "Beverage Distributors Brace for HR Challenges".
You can access a recording of this great exchange of ideas with Sandy and Net at Work by going here. You will find dozens of complimentary recordings of past webinars covering a broad spectrum of topics of interest the HR and Payroll professionals. Or you can contact your Net at Work Account Executive or drop us a line at employersolutions@netatwork.com.