Employer Solutions Newsletter – January 2019
Keeping You Up-To-Date With Information About Employer Solutions / HRMS
What is the "Candidate Experience" — and Does it Really Matter?
By: Net at Work Team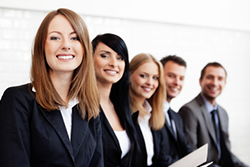 There's a lot of talk currently about the importance of the candidate experience. Just what is the candidate experience? Does it matter?  And if so, how can you make it better?
What is it?
Not surprisingly, the term "candidate experience" refers to the overall experience employment candidates have with a potential employer. It includes the candidates' impressions and perceptions of a company's hiring process including the job application, screening methods, communications, and the interview.
Does it Matter?
In a word — yes. The candidate experience matters enough that there's even an annual Candidate Experience conference to recognize leaders in this art. Here are just four of many reasons why companies should take the candidate experience seriously.
Bad news spreads
Applicants who have a bad experience with a company often don't go silently back into the job market — they spread the bad word. A recent industry survey found that 33% of candidates with a negative experience intended to share the news publicly through social media.
Candidates are also customers
Alienate a candidate and it might dip into your profits. A recent Talent Board survey found that just under 40% of those with a positive candidate experience said they felt more inclined to buy from the company, regardless of whether they were actually hired. Conversely, 30% of those with a negative experience said they would now purchase fewer of the business's goods or services.
The good ones might get away
A positive candidate experience leads to better hiring. It's that simple. Need evidence? Organizations that invest in a strong candidate experience improve their quality of hires by 70%. And, 90% of candidates claim that the candidate experience they receive can change their minds about a role or company.
It will cost you real money
A bad candidate experience can be costly enough that there's a  Candidate Experience Resentment Calculator to demonstrate the lost revenue potential stemming from bad candidate experiences.
Upcoming Live Webinar:
Topic:
Solving These Top Recruiting Challenges Will Improve Your Hiring Process
Register Here
|
Date:
Feb 7

How Can You Improve It?
Improving the candidate experience is not overly difficult, but it does take planning, time, and effort. Here are three areas to consider:
Recruitment Marketing
Yes, there's really such a thing as recruitment marketing. Really, it's just a formal term for the strategies and tactics a firm uses to find, attract, engage, and nurture talent during the pre-application or recruitment phase. Recruitment marketing might take the form of employer branding, educational and promotional videos, or career sites.
The best-executed recruitment marketing involves a company's marketing department — an Aberdeen study found that best-in-class companies are 68% more likely than all others to involve the marketing department in employment advertising tactics. The same study found that recruitment marketing reduced the overall cost of the hiring process by 20% or more for 24% of companies.
Recruitment Messaging
Today's workforce includes three generations — and to reach each of them, companies need messaging that resonates with the intended audience. Take the time to hone your company's recruiting message — it should reflect your brand and speak to the needs and interests of your candidate pool. The right messaging works — Johnson & Johnson reworked their recruitment messaging to be highly specific and saw their talent pool improve by 54% and new hire turnover drop by 23%.
Conversational Recruiting
Here's another trendy term — conversational recruiting. Conversational recruiting emphasizes two-way communications throughout the recruiting process — and we're not just talking phone chats here. Candidates expect to engage potential employers from where they live – which often means from their mobile devices, and meaningful "conversations" might take the form of text, video screening, and candidate surveys to recruit for talent and have meaningful interactions along the way.
The candidate experience is a critical component in a company's overall recruiting strategy. A good candidate experience results in a number of tangible benefits, while a poor candidate experience can diminish a company's chances at hiring and retaining top talent. We've got additional ideas about how you can improve your company's candidate experience – we invite you to attend one of these webinars to learn more.
Upcoming Live Webinar:
Topic:
Nonprofit Focus: Helping Nonprofits Build Sustainable Recruiting Practices
Register Here
|
Date:
Feb 21