Sage X3 Newsletter – March 2018
Keeping You Up-To-Date With Information About Sage X3
Sage X3 ERP is now Sage Business Cloud Enterprise Management – Part of the Sage Business Cloud
By: Net at Work Team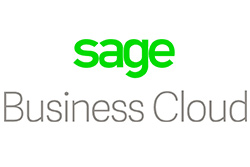 With the introduction of Sage Business Cloud, Sage has renamed almost their entire product line. We'll discuss the new name for Sage X3 ERP – Sage Business Cloud Enterprise Management.
In keeping with the new naming convention, the recent product name change to Sage Enterprise Management is really just Sage X3 under a new name. The Sage X3 solution will still have all the great features and applications it has become known for including, Accounting and Finance, Business Intelligence and Reporting, Customer Service, Purchasing Management, Manufacturing Management, Sales Management, Inventory and Warehouse Management and Mobile Sales Apps.
With the name Sage Enterprise Management, it will be clearer to understand the product as an add-on or upgrade solution in the overall Sage Business Cloud. With the ability to provide real-time insight, improve processes, accelerate response time, and simplify project management, it is a great solution for manufacturing, distribution and service industries likewise.