Sage 100 Schedule a Visual Integrator
This article will show you how can schedule a Visual Integrator (VI) import or export job to run automatically in Sage 100.  For best results, is recommended that the steps below be performed directly on your server, rather than on a workstation.
Open the Task Scheduler found under Library Master> Main> Task Scheduler.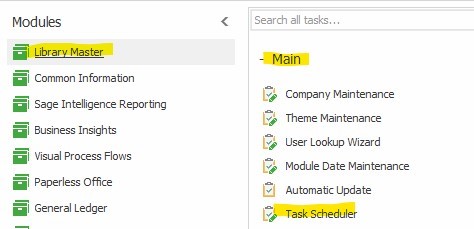 Configure the Scheduled Task by Filling in the Following on Tab #1 (Schedule)
Job Name (no spaces permitted)
Description
Company Code
The Sage user login (which has permissions to run the VI job) and password
The Windows user login, an administrative level user ID and password
Select how frequently the job should run: Daily, Weekly, Monthly, Once.

Enter a frequency such as "Every n" days, weeks, months.
If you choose "Weekly," you can select the day of the week for the job to run.
Monthly gives you the choose of first, second, third, fourth, and last day of the week.

Enter a start date and end date.
Enter a start time.

On Tab #2 (Tasks)
Select "Import" or "Export" under the "V/I Job Type"
Select the V/I Job you want to schedule
Click Accept when complete.
Note that you can also use the "Run Now" button to test your scheduled test on the spot.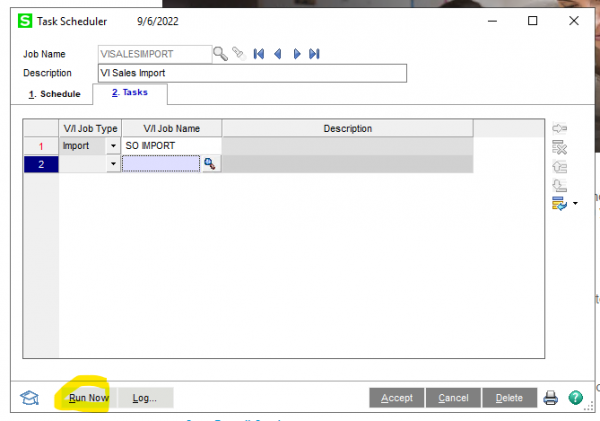 Also, you can review the history of the task and whether it ran successfully or with errors by running the Log.