Employer Solutions / HRMS Newsletter – January 2018
Keeping You Up-To-Date With Information About Employer Solutions / HRMS
Human Resources Analytics (HR Analytics)
By: Net at Work Team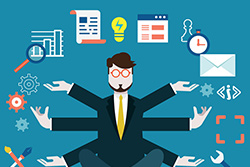 What does Human Resources Analytics (HR Analytics) mean?
Human resource analytics (HR analytics) is an area in the field of analytics that refers to applying analytic processes to the human resource department of an organization in the hope of improving employee performance and therefore getting a better return on investment.
HR analytics does not just deal with gathering data on employee efficiency. Instead, it aims to provide insight into each process by gathering data and then using it to make relevant decisions about how to improve these processes.
What HR analytics does is correlate business data and people data, which can help establish important connections later on. The key aspect of HR analytics is to provide data on the impact the HR department has on the organization as a whole. Establishing a relationship between what HR does and business outcomes – and then creating strategies based on that information – is what HR analytics is all about.
HR has core functions that can be enhanced by applying processes in analytics. These are acquisition, optimization, paying and developing the workforce of the organization. HR analytics can help to dig into problems and issues surrounding these requirements, and using analytical workflow, guide the managers to answer questions and gain insights from information at hand, then make relevant decisions and take appropriate actions.

Sage People: HR and People Analytics
Watch Informative Live Webinar:
Topic:
Sage People: Secure Employee Data in a Cloud-based Human Capital Management (HCM) System
Register Here
|
Date:
Jan 30