Employer Solutions / HRMS Newsletter – November 2018
Keeping You Up-To-Date With Information About Employer Solutions / HRMS
The Hiring Challenge for Non-Profits
By: Net at Work Team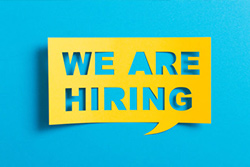 All employers face challenges when it comes to finding and retaining good employees.  Employees are arguably the most valuable assets in any company, and even more so in non-profit organizations.
As Peter Drucker has pointed out in Managing the Non-Profit Organization, the yield from employees is really what determines the organization's performance.  The specialized skills and effort of employees is the "product" of non-profits – the ability to create meaningful change.  Non-profits face several challenges meeting their human resource needs.
High Competition
With overall unemployment low and wages on the rise, the pool of qualified candidates for non-profits is lower than ever.  In addition, the growing number of non-profits means more organizations are competing for experienced managers and staff. However, organizations struggle with barriers such as lower earning potential, lack of mentorship, a strain on employee work/life balance and overwhelming fundraising responsibilities.
Unique Skills Required
Many non-profit organizations require unique skill sets to accomplish their mission. Non-profits can have a difficult time filling positions for finance, healthcare, education, or environmental issues. With roughly half of organizations struggling to hire qualified talent for critical positions, non-profits must actively engage in the search for the specialized skills they need.
Mismatched expectations
Employees chose to join a non-profit for a variety of reasons. It may be that they thought that when they worked for a non-profit that they would get a chance to help drive real change in the world.  Or they expected a non-profit to be a different style of employer.  In reality, in most cases the non-profit work environment is not that much different than a similar position in a for-profit organization. The employees lose heart and leave either to another non-profit whom they think is promising more or back to the for-profit world. It is key to nurture and sustain employee engagement for any organization and especially a non-profit to be successful.
Please join us on November 30 at 1:00 PM to learn how HR technology can transform your non-profit and change its trajectory. An HCM (Human Capital Management) system can make a measurable difference between organizational success and failure.
Upcoming Live Webinar:
Topic:
Transformative HR Technology For Nonprofits
Register Here
|
Date:
Nov 30