Sage 100 Newsletter – 1st Quarter 2018
Keeping You Up-To-Date With Information About Sage 100
Sage Fixed Assets for Sage 100 – What's New in Version 2018.0
By: Chris Wilbur, Senior Business Analyst/Consultant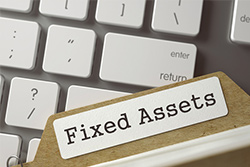 1 – Sage Fixed Assets Scanner mobile application
The Sage Fixed Assets Scanner application allows you to perform an Inventory from Sage Fixed Assets—Tracking to an Android mobile device (OS 5.0 or higher). The camera on your Android mobile device (minimum 5 MP, 8 MP recommended) to scan asset barcodes to add them to the inventory, edit assets, and send an updated inventory file back to Sage Fixed Assets—Tracking.
See the details about the Sage Fixed Assets Scanner mobile application in the Sage Fixed Assets—Tracking, Help menu, Help Topics for more information.
Watch Recorded Webinar:
Topic:
Sage Fixed Assets Accounting for Sage 100 (MAS 90 / MAS 200) ERP
Watch Now
2 – The Image Manager window has been updated to include these great new features:
A drag and drop area to simultaneously upload multiple images.
Simultaneously link multiple assets to one or more images.
Click the number in the Number of Linked Assets column for an image to quickly view a report of all assets linked to the image.
Sort the images in the File List in ascending or descending order, by name, type, or number of linked assets.
Double-click an image directly from the File List to quickly rename it.
3 – Book Information
The Book Information section of the Asset Detail window now includes lines for Prior Through Date and Depreciation This Run.
Additionally, you can now customize the Asset List view (Customize, Asset List) to include columns for Depreciation This Run, Prior Through Date, and 168 Allowance Amount.
4 – Custom Depreciation deletion confirmation
An "I am sure" check box has been added to the confirmation window that opens when deleting a custom depreciation method. The box must be checked to enable the Yes button to continue.