Sage 100 Newsletter – Year-End 2017
Keeping You Up-To-Date With Information About Sage 100
Sage 100 and VB Scripting
By: Net at Work Team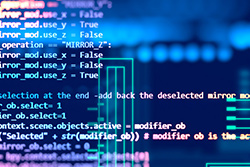 Sage 100 includes a powerful feature that many users are not aware of.  User-Defined VB Scripting allows Sage 100 to add additional features to your system without modifying the source code of the program.  VB Scripting can be a useful and cost-effective solution to many needs in Sage 100. Please find below some VB Scripting that Net at Work has created and can install in your current installation of Sage 100.
---
Watch Informative Recorded Webinar:
Topic:
Sage 100 – Enhance, Automate, and Integrate
Watch Recorded Webinar
---
Credit Memo Automation in SO Invoice Entry
This VB Script will automatically copy line items from an invoice (from invoice history) when using the Apply To function in SO Invoice Data Entry while creating a Credit Memos.
Cost – $1,299
Display GP Amount and % in Sales Order Entry and Sales Order Invoice Data Entry
This VB Script will add fields for the Gross Profit Amount and Gross Profit Percentage which would be added to the Lines Tab grid in Sales Order Entry and Invoice Data Entry.
In addition, the following fields would be added to the Totals Tab in Sales Order Entry and SO Invoice Data Entry:
Total Sales
Total Cost
Gross Profit Amount
Gross Profit Percentage
Cost – $1,999
PO Cost Varies From Standard Cost (or Average Cost) Alert
This VB Script will create a message (pop up) in Purchase Order Entry when an item code is entered with a cost that varies by a specified percentage from the standard or average
Cost – $1,199