Sage 300 Newsletter – September 2017
Keeping You Up-To-Date With Information About Sage 300
CRM: Are you In Need of a New or Improved Solution?
By: Net at Work Team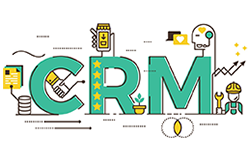 Derek Jacobson, our CRM leader at Net at Work posed the following scenarios and asks: Do any of the following challenges hit home with you? If any of these do ring true, he says, it is more than likely you are in need of a new or improved CRM solution.
You struggle to get a clear picture of what your future sales will be.
You have inconsistent performance amongst your sales team members and want to lift the results from groups of your team.
Your sales people are busy making calls, but it seems the orders you get today are from the same customers, for the same products and growth is hard to come by or spotty.
You spend time, money and resources driving marketing and advertising through a variety of media and have no way to measure the true return or ROI of those efforts.
Your sales team seems to spend a lot of time on accounts that never really materialize into the value you expect and you suspect you are missing other opportunities along the way.
Your process for getting from proposal to order is broken, disjointed, or incredibly labor intensive. Quotes are left untouched and key opportunities seem to die on the vine.
Your customer service team is fielding requests, but your sales and account management team has little visibility and often get surprised when they call on their accounts because of open issues not yet resolved.
Your team seems overly dependent on discounting products or service offerings and you are looking for ways to control or grow margin.
Your team is great at dealing with new clients, but your existing base gets neglected and you feel you are missing out on the lifetime value your existing base provides.
Leading CRM Solutions – An Overview and Comparison
Get an expert's feedback on the constantly changing CRM landscape.
If any of these scenarios ring true, you are in need of a new or improved CRM solution. Net at Work's CRM Practice is focused on helping sales, marketing and customer service organizations grow revenue, margin and conversion rates for companies by aligning best of breed technologies that are tailored to your business.
Our CRM team invites you to speak to us and let us coordinate a strategy and planning session where we will help you map out the lead to opportunity to order cycle and then help identify and deliver the right solution that drives meaningful results.  Let us help you define the right strategies and approach and identify the best possible solution to outcomes you are looking for.  We work with industry leading solutions including Microsoft Dynamics, Salesforce.com, Sage CRM, Infor CRM and NetSuite.
So whether you don't have a CRM solution at all, or you want to revisit what's been in place for years, contact us and let us help you grow.