Employer Solutions Newsletter – Q3 2019
Keeping You Up-To-Date With Information About Employer Solutions / HRMS
EEO-1 Pay Data Reporting: Still on the To-do List
By: Net at Work Team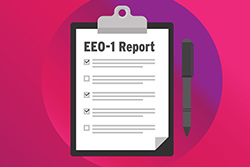 Although there has been speculation that the EEOC might relent at the last minute, it seems likely that employers will need to be prepared to report pay data in the EEO-1 Component 2 part of the reporting.  Here is what we know so far.
Pay Data
In 2016 the EEOC announced that they would require employers to provide pay data as part of the EEO-1 report.  This data was to be used to determine where pay gaps existed between men and women in the workforce, correlated with the traditional EEO_1 categories of employment.
For each of the 10 EEO-1 categories, employees would be reported in one of 12 wage bands.  (Hours worked would also be required.)  The net effect of this requirement is that the 140 data fields for the EEO-1 report (14 race/gender combinations for each of the 10 job categories) have now jumped to 3,360 data fields (12 wage bands and 12 hour worked bands for each of the 140 current data fields).
"Pay data" has been identified as W-2 Box 1 wages and annual hours worked.
Upcoming Live Webinar:
EEO-1 Payroll Reporting with Sage HRMS
Date:
August 22
Due Dates
Component 1 of the EEO-1 was due May 31, 2019 for 2018.  Component 1 is the traditional EEO-1 reporting of job categories by race and gender with all the consolidated, headquarters and establishment reporting.
The original due date of March 31, 2018 for the Component 2 Pay data was postponed.  With the recent EEOC decision reinstating the pay data reporting requirement, employers now will be required to report two years (2017 and 2018) of 'catch-up' data by September 30, 2019.  2019 EEO-1 Component 1 and 2 will presumably be due March 31, 2020.
Preparation
Our software partners are working on methods to generate the Component 2 data in time for the September 30, 2019 deadline.  Sage expects to release updates in the 3rd quarter to Sage HRMS and Abra Suite.  Our other software publishers are following suit.
Once we have received notification that the updates are available, we will begin scheduling webinars to explain the update.  Check our webinar listings for new  presentations.  We will also be providing guidance and consulting to walk you through the process.  The EEOC expects the reporting portal to be operational by mid-July with the helpdesk already online since mid-June.
For more information concerning reporting options or other employer solutions questions, please contact your Net at Work Account Manager or helpdesk@netatwork.com and plan to attend our informational webinar.