Sage 100 Newsletter – 3rd Quarter 2018
Keeping You Up-To-Date With Information About Sage 100
Sage 100 Paperless Office
By: Brett Zimmerman, Senior Business Analyst/Consultant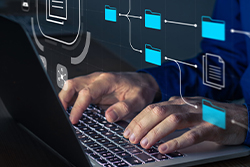 Already part of your Sage 100 system – 4.30+
It appears there's still a fair amount of folks not using any of the included Sage 100 Paperless Office functionality.  It also appears that many companies are only using a portion of it, possibly due to not necessarily knowing about the other features.  In any case, you may be missing out, including the potential cost savings (e.g. paper, postage, personnel time, etc.).  And remember that you can still optionally print these Paperless documents to paper until you become comfortable with the Paperless process.  Please let us know if you'd like assistance in learning more.  To peak your interest even further, please consider the following:
J&R (Journals & Registers): Think about all those documents that you may be printing to paper every time you post/update a Journal or Register.  Well all those can easily print to pdf instead and be catalogued automatically, to be very accessible from your computer should the need arise.  And therefore you wouldn't need to locate and flip thru the applicable binder until you find what you're looking for.

Associated Source Docs:  You can optionally attach backup documentation to various Journals/Registers in Sage 100, e.g. attach copies of checks received or other related backup to your A/R Cash Receipts Journal, to be very accessible from your computer.

Period-End Reports: Period-End Processing in Sage 100 provides the option to print certain reports.  I'm guessing there may be a number of you who don't print most or any because some of these reports can be rather lengthy.  I'm also guessing some folks are printing many or all of them due to not necessarily knowing if they'll be needed at some point (incl 'just in case'), possibly along with the understanding that some reports are considered 'point-in-time' reports (e.g. a report with Period-To-Date (PTD) data that can't technically exactly be re-generated once the period is closed).  So even if you don't need any of the various reports you print to pdf, the only impact is just using a little hard drive space on the server, so no harm and no wasted paper.  Plus the reports will be very accessible from your computer.
Forms E-mailing: Wouldn't it be great if you could seamlessly and simply e-mail documents to your customers, vendors, etc. right from your Sage 100 system, without having to manually create individual e-mails, attach documents, etc.?  Oh wait, you can!!  But obviously not everyone will want to receive orders, invoices or statements for example via e-mail, therefore you can set each customer (by Form), for Print or/and Email.  Same with PO's to your vendors.  Forms e-mailing can also be used for Remittance Advices if you pay certain vendors electronically via the included Sage 100 function.  Same with P/R direct deposit stubs.
Again, please let us know if you'd like assistance in learning more.
Are you thinking of upgrading?  Why should you upgrade?  Contact your Account Manager
Shaun Garrity | (781) 713-0817 | sgarrity@netatwork.com
Pat Russo | (646) 293-1767 | prusso@netatwork.com
Mary Orefice | 804-298-3810 |morefice@netatwork.com