Sage 300 Newsletter – April 2019
Keeping You Up-To-Date With Information About Sage 300
Sage 300 + Sage CRM: Benefits of The All New Integration
By: Net at Work Team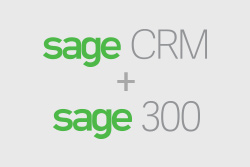 Sage CRM for Sage 300 – A Totally New Integration
When you integrate Sage 300 with Sage CRM, your business benefits from end-to-end visibility and a single view of the customer, where each department is working with the same information and communicating in the same way. The result is greater insight into business performance, improved productivity, more efficient processes, and more effective communications, all of which open up new opportunities for growth.
Redesigned CRM Integration
Sage redesigned the way that Sage CRM integrates with Sage 300 2019 to make it easier to set up, and to improve usability and performance. Integration screens now have the same modern look and feel as web screens, and perform faster too! The integration now uses the Sage 300c web screens instead of the old Sage 300 Portal, which makes installation much simpler.
Streamline Sales and Marketing Activities
An entirely new integration with Sage CRM allows Sage 300 customers to gain better business insight, increase team productivity and unlock the secret of customer success. With the new integration, new screens, tabs and features have been added (or modified) throughout Sage CRM that allow you to see and access more information from Sage 300 than before.
Net at Work held a webinar in which we did a demo and walkthrough of the great new features in the latest version release of Sage CRM integrated with Sage 300.
Watch Recorded Webinar:
Sage 300 + Sage CRM:
Benefits of The All New Integration
Key Topics Covered During the Webinar:
Technology Updates
The Interface Enhancements
Customer and Vendor Synchronization
Inquiry Screens
Quote to Order
Processing Credit Cards
Email Quotes and Orders