Sage Enterprise Management Newsletter – Q1 2019
Keeping You Up-To-Date With Information About Sage X3
ERP and B2B eCommerce Integration Best Practices
By: Net at Work Team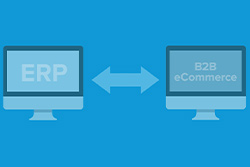 Online retail organizations must cultivate and maintain seamless backend infrastructure to meet customer demand. Enterprise resource planning and ecommerce platform integration is an essential part of this equation, allowing sellers both big and small to develop smooth web-based sales channels that not only keep customers happy but also reduce the operational burden.
However, few retailers succeed in connecting these mission-critical systems, according to researchers for Boston Retail Partners, who discovered that more than 72 percent of these businesses have "faux omnichannel environments," which may include disparate digital assets but depend on manual behind-the-scenes processes. Ecommerce companies can avoid falling into this operational trap by leveraging ERP-B2B integration best practices to create the kind of streamlined, cohesive sales and fulfillment workflows that lay the groundwork for success in the digital age.
Here are six of those transformative strategies:
Embrace inventory management optimization
Retailers have multiple inventory management configuration options during ERP-B2B integration. They have the opportunity to import orders through one single channel or develop separate pathways for orders received online and in brick-and-mortar contexts. Retailers can also configure platform logic to account for geographical disparities created as a consequence of differing location information taken from ship-to labels or multiple physical warehousing sites. It is essential that retailers explore all available options and select inventory management setups with the most operational potential, rather than moving forward with frameworks that might be familiar but weigh on the bottom line.
Watch Recorded Webinar:
B2B Ecommerce Integration Best Practices
Unpack the nuances of backorder management
Backorder management is an essential ecommerce function that often comes into focus during the ERP-B2B integration process. Most ERP solutions, when properly linked with front-of-house customer portals, automate this process, as warehouse stocks are tied directly to online availability and update automatically without user intervention. However, some sellers prefer to manage backorders manually and pause ERP-B2B synchronization in an effort to sell as much as possible through demand-based production or procurement. Of course, this approach creates higher-than-normal backorder volumes, an outcome that must be taken into account during integration. Ecommerce companies must sort through these and other backorder management strategies and develop the requisite internal infrastructure.
Truly take advantage of automation
Automation is among the primary drivers behind ERP-B2B integration. It is easy to understand why. Online retailers with such connections in place can abandon manual order entry and tracking number distribution workflows, saving considerable time and money in the process. Most sellers are aware of these common automation functions and work diligently to develop them. Unfortunately, in a rush to implement these high-level self-propulsion tools, many miss smaller automated components that offer comparable return on investment. For instance, some ERP suites allow users to automate the pick list generation process, a small tweak that reduces the need for front-office handling and further simplifies and accelerates fulfillment. Ecommerce companies should spend time exploring such lesser-known tools and take full advantage of the automation capabilities that come with ERP-B2B integration.
Consider integrated shipping options
Online retailers navigating the ERP-B2B process often choose to maintain their existing shipping systems. This approach makes sense, as sellers often develop close relationships with shippers through expansive third-party logistics operations. Disconnecting from such infrastructure might seem unnecessarily disruptive. That said, integrated ERP and B2B sales platforms often offer integrated shipping options that might make such a move, no matter how hard, appealing. At the very least, ERP-based tracking number management and profitability measurement tools can bolster internal transparency and lend decision-makers insight into how shipping affects the bottom line. B2B sales platforms provide some associated advantages as well, giving customers accurate shipping cost estimates without mining ERP data and complicating backend operations. With these and other options in play, ecommerce companies must take a hard look at their existing shipping processes.
Look into taxation improvement
Taxation is obviously an important function for sellers occupying digital marketplaces. ERP-B2B integration can actually streamline the complicated workflows that characterize this operational arena. ERP systems and B2B sales solutions can be used as systems of record, meaning most ecommerce companies confront the issue of taxation at some point during the integration process. This is the perfect time to assess whether improvements can be made. For example, if sales tax amounts generated within the customer-facing sales portal do not match those in the ERP, further synchronization could be required. Online retailers would be wise to consider such tweaks as they navigate ERP-B2B integration.
Understand how data impacts success
In addition to improving the customer experience and streamlining internal operations, ERP-B2B integration supports backend information gathering processes, creating robust data flows that empower users, inform business leaders and ultimately facilitate organizational success. With this mind, online sellers must carefully review platform reporting and the various key performance indicators that they contain, while also building out sustainable processes that underpin internal transparency post go-live.
Are you interested in diving deeper into ERP-B2B integration? Listen to Pixafy's latest webinar on the topic, which covers these key themes:
Common ERP and ecommerce touchpoints
Touchpoint prioritization based on business need
ERP integration optimization strategies
You might also consider connecting with the Pixafy team to discuss your ERP-B2B integration needs. Our award-winning developers can help you cultivate seamless backend operational infrastructure centered on the Magento or Shopify ecommerce platforms.