Sage X3 Newsletter – December 2018
Keeping You Up-To-Date With Information About Sage X3
Sage Enterprise Management – Support Plans Overview
By: Net at Work Team
It's our goal to be your partner in business and to proactively work towards giving you the best possible experience, and most value from your Sage and Net at Work investments. As part of this effort we are introducing new Support Plan options which move from hourly billing to one that allows you to better plan and budget for your Sage Enterprise Management support. Please see a high-level overview below. If you would like to learn more and determine which plan is the best fit for you organization, please reach out to us for more details.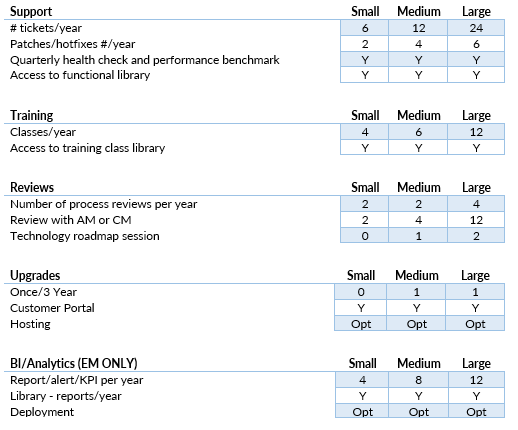 SUPPORT
You will continue to work with your usual consultants but cc helpdesk who will track tickets and provide performance reporting on your questions.
Net at Work will proactively install patches and hotfixes for you up to once every two months (depending on plan level) to ensure you are getting the most from your Sage maintenance and support.
Net at Work will conduct quarterly health checks to keep your system running at peak performance.  A Net at Work-developed process will also monitor trace and temporary files to alert us to any problems before your users notice any impact.
Net at Work functional consultants are compiling all our how-to guides for Sage Enterprise Management and will make the library available on-demand for you to browse and use as needed.
TRAINING
Net at Work will conduct group web-based training courses which you can join live up to once a month (depending on plan level) to ask questions and get functional support on the topic.
Plan subscribers will have access to view and download from the recorded library of training courses.
REVIEWS
A senior Net at Work consultant will review up to 4 critical processes per year (depending on allplan level).  We will suggest efficiencies, answer questions, and personalize your Visual Process Flows to make Sage Enterprise Management easier and more enjoyable for your team.
Your Account Manager or the Consulting Manager of the Net at Work Sage Enterprise Management team will meet with your executive team up to once a month (depending on plan level).  Once a year, we will meet with you to help you develop and then monitor a personalized technology roadmap for your Sage related systems.  We will share news about upcoming releases and help you plan and budget for short and long term.
UPGRADES
Two plans offer full upgrade service for your Sage Enterprise Management software once every 3 years.  Take the shock out of upgrade budgets!
HOSTING
Move to the Net at Work cloud to get amazing performance and uptime from your software.  Ask for details.
CLIENT PORTAL
Your new Net at Work Client Portal will provide all the details you need on projects, tickets, and delivered plan services.  You will also have access to an accounting interface to reprint invoices and make payments.
BI/ANALYTICS OPTION
Receive up to 1 new dashboard, report, or inquiry per month (depending on plan level).  We will install it for you and send you a functional brief and instructions on how to access.
Submit your ideas for new reports and queries and we'll roll them into the plan.