Sage X3 Newsletter – Q1 2020
Keeping You Up-To-Date With Information About Sage X3
Using the Bank Reconciliation Feature in Sage X3
By: Net at Work Team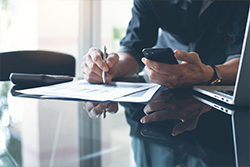 Ensuring that your business' transactions match what appears in your bank statement is a vital part of maintaining your business' financial health. When an organization has multiple entities spread across multiple countries, each with separate bank accounts that have to be balanced, the task becomes even more complicated.
Why improve your bank reconciliation process?
Bank reconciliation helps make sure that your company's accounting records are accurate and that you're maintaining a minimum cash balance to avoid cash shortages. If your cash outflows are exceeding your cash inflows, it can impact working capital and your ability to make payments.
Bank reconciliation also helps to spot discrepancies—which may be the result of fraud or errors that require correction quickly so that financial statements are up-to-date.
In this video we'll explore the native bank reconciliation process in Sage X3. Configured properly, the process is fast and user-friendly, cutting many hours of manual work from your employees' workload and freeing them to concentrate on more strategic tasks.
For more information about bank reconciliation in Sage X3, please contact us.
Net at Work and COVID-19: Resources for Sage X3 Users