NEW! Fully Connected Shipping Integrated with
Sage X3
Apply and leverage Fully Connected Shipping with Sage X3 to strengthen your business and receive real-time connectivity to carriers, accurate reporting data, and business systems. Pacejet's platform is an adaptive solution that empowers shippers with rapid and innovative capabilities that foster growth.
The Business Benefits of Pacejet's Integrated Shipping Solution for Sage X3:
Reduce shipping costs up to 30%: Rate shop, from order or Sage X3 shipment/delivery record, across 65+ carriers to find the best price for any shipment. Capture and improve accurate billing information while using Pacejet's carrier options to reduce shipping costs.
Faster fulfillment times: Pacejet provides full visibility into your data, which will help reduce errors, increase shipping time, and help fulfill shipping orders quickly and efficiently.
Reduce shipping labor up to 80%: Automate your workflows and reduce manual steps through improved capabilities like pack and ship, which are accessible either through Pacejet or Sage X3.
Native Sage X3 integration: Pacejet seamlessly integrates into Sage X3 and uses native integration to provide real-time connectivity and enhance your multi-carrier shipping strategy. Compatible with Sage X3 Version 12 and future releases.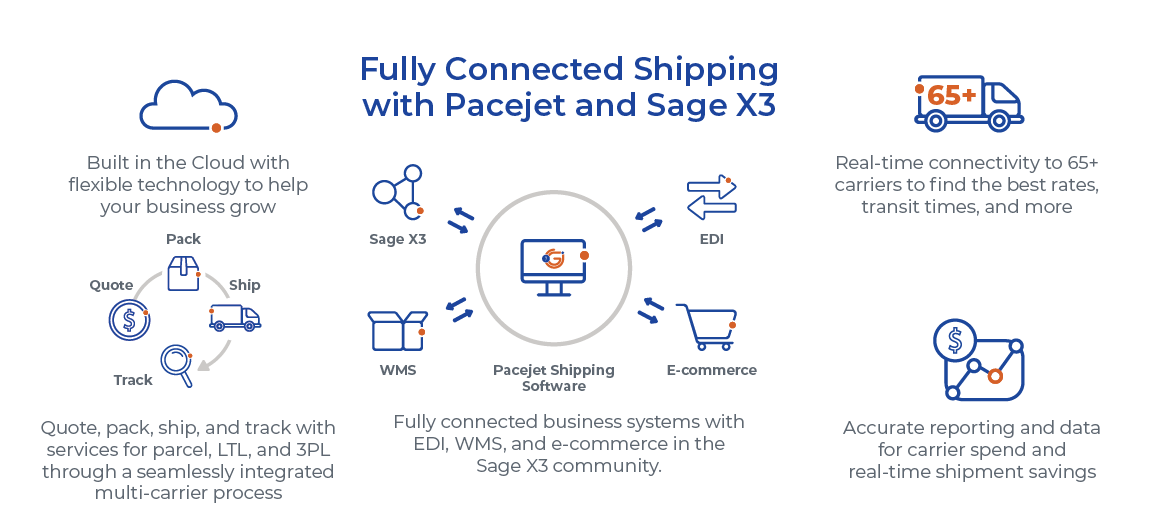 For more information on how Pacejet's Fully Connected Shipping can help your business, check out our on-demand webinar or contact us.
Watch Recorded Webinar:
All New Fully Connected Shipping Integrated with Sage X3
Explore Better Shipping Built-for-Sage X3.