Employer Solutions / HRMS Newsletter – August 2016
Keeping You Up-To-Date With Information About Employer Solutions / HRMS
Tracking Employee Data with Custom Screens
By: Net at Work Team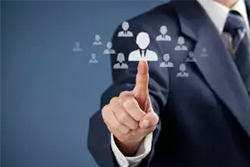 All HRMS systems track employee information and most track the same things: employee indicative data, employee history, benefits, training, and payroll information. However, many employers have data they need to track about employees that fall outside of those norms.
So after spending time and money to establish a Human Resources Management System (HRMS) and importing or inputting all of that data, you are left with some data that just 'doesn't fit'. And that data goes into Excel spreadsheets, homemade databases or on paper. What kinds of data might that be? Examples include:
Equipment issued to employees
Testing results especially in health care organizations
Company vehicle or licensing and insurance information
Licenses or certifications, especially with expiration dates
Onboarding documentation
HIPAA-sensitive information that should not be comingled with other employee notes
Specialized data to carry forward to third-party timekeeping or payroll systems
The Single Point of Truth
The problems with multiple locations for employee data are many. Employee indicative data like employee numbers or other identifiers may not match making reporting an issue. Even if there is a common field, it is often costly and time-consuming to create and maintain a method for reporting the data together. (VLOOKUP() anyone?) Plus, when data changes, you have to remember all the places where it might need to be changed, added or deleted.
Seeing the analytical 'bigger picture' that your data can provide is lost if data cannot be put side-by-side for analysis. Issues big and small can arise. For example,
if you don't know all of the equipment an employee was issued, what are the chances that it will all be accounted for when the employee leaves?
If your employee's Superintendent Certification has expired in your job site's State, is it a good idea to assign them to that job site?
If your location's day care license is under review, how quickly can you show the result of your employee background checks?
The solution is to have a single point of truth, a single location that acts as a repository for all employee data. One point for data entry with the ability to record – and report – all of the employee data that is critical to your business.
Customization versus Configuration
How then, do you go about creating that single point of truth that includes everything you need to know about your employees? For some products that involves customization. Customization often involves special skills in coding, database management and presentation. Customizable programs are highly flexible but that flexibility comes at a steep price both in terms of software investment and in specialized consulting.
A better choice is a configurable solution like Sage HRMS. Configurable solutions give the end user the ability with minimal instruction to create their own databases, screens and reports without specialized knowledge. Sage HRMS allows you to quickly built custom screens using simple click-and-drag techniques and enter or import data. After you have created your custom screen you can integrate it alongside the standard screens, include the screen in standard Tasks like New Hire and Termination. Additionally, you can out information using the wizard-driven Secure Query tool, or create Crystal Reports.
Creating a Custom Screen is Easy in Sage HRMS
Sage HRMS custom screens can be single record (like the Demographic detail) or multi-record (like the Benefits detail), depending on your need. The screen can have up to 5 individual tabs and 18 fields per tab. Fields can be from the HR master table (items like organizational level, supervisor, and Job Title) as well as custom fields. Custom fields can be drop-down\menu driven, date, text, numeric or calculations.
In this screen, we are tracking company property issued to Hugh Allen. While the list of property items is custom, the header with Hugh's employee data is consistent with all of the other screens in HRMS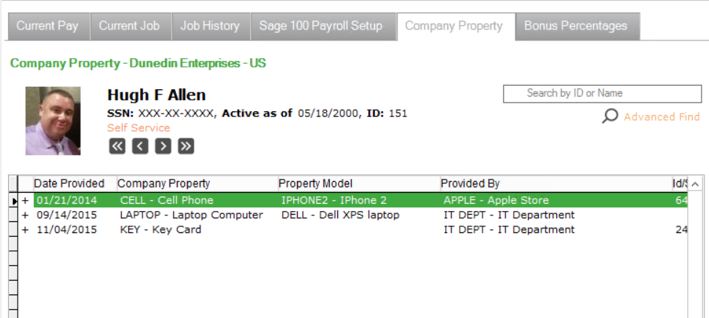 If we needed to add an additional column, we could open the System Setup and click in the location where we want the field to appear. A list of standard or custom fields will appear to choose from.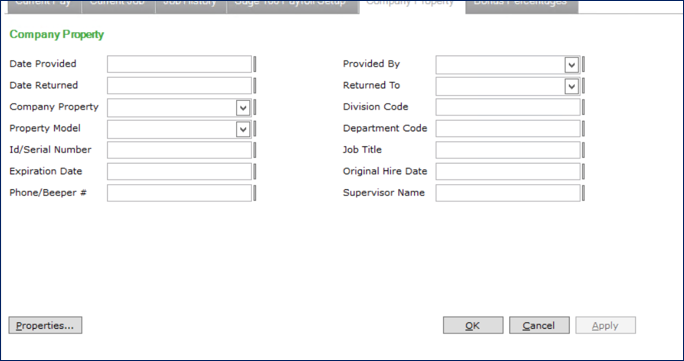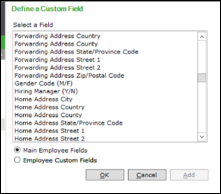 Increase the Value of Your Custom Data
Once you have created your screen, you can add it to your tasks. Here we are adding the Company Property Screen as a step in our Termination Employee Task.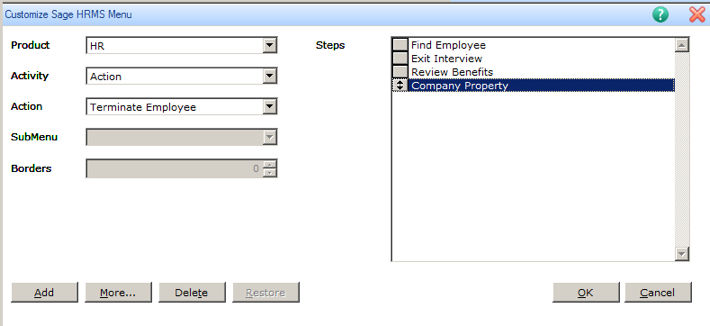 Secure Query Makes Reporting Easy
Getting data into a system is only as good as getting data out of a system. With Secure Query, you can quickly build a report from your custom data.

Next Steps
Look for our list of upcoming webinars for a free session on creating custom screens or contact us here at Employer Solutions at Net at Work for assistance from one of our skilled consultants. They can assist you in learning how to design and deploy your own custom screens. For additional information check us out at https://www.netatwork.com/services_1/bizsol_1/sage-hrms/ or contact us at 800-719-3307.
Informative Webinars
Aug 24th: The Benefits of Automating Time and Attendance
Sept 7th: SQL Migration: Why Make the Change to Sage HRMS SQL Version?
Sept 8th: Meeting the Cybersecurity Challenge
Sept 9th: New Overtime Rules: It's Here! The Official Changes to the FLSA White-Collar Exemptions
Sept 13th: InfinityHR – Complete HR Automation Has Never Been More Within Your Reach!
Sept 14th: Crystal Reports: Basics
Sept 16th: HR Technology Tools 2016: Why it's more important than ever to use an HRMS
Sept 20th: Crystal Reports: Beyond the Basics
Sept 22nd: Strategies for Responding to the Changes in FLSA Overtime Eligibility
Sept 27th: Sage HRMS HR Actions – Create, Route, Approve, and Save Paperless Web-Based Forms
Sept 30th: Using Tax Credits & Incentives to Improve Cash Flows and Grow Your Business: Tax Credits and their Importance