Sage 300 Newsletter – April 2018
Keeping You Up-To-Date With Information About Sage 300
Sage 300 Third-Party Advantage Conference (TPAC) 2018 Update
By: Net at Work Team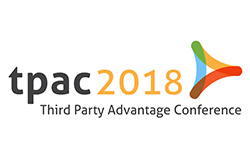 Last February some members of the Net at Work team attended the annual TPAC conference in Vancouver, BC.  Our purpose for attending was to learn about product updates and new offerings that are available to help plug GAPS that our clients may have.  We were introduced to a few new products along with a few product updates that caught our eye.
Products Include:
NEW!  AutoSimply Quality Control:  This is a GAP that up until this point was not addressed with any other Sage 3rd Party solution.  This solution is ideal for those organizations that need to have a need for an integrated Quality Control process within Sage 300.  We expect this to be available in Q2.
NEW!  AutoSimply Pricing:  Available now, this solution helps you maintain pricing levels for both groups of items as well as groups of customers or both at the same time.
Reduces the need to maintain Multiple price lists
Track volume discounts
Suggested order points
Multiple Sale dates
Support for both AR and OE Pricing
NEW!  Auto Simply Sales Anywhere: Also available now, extends  order entry to a mobile tablet with a simplified Order entry screen.  Empower your sales force in the field to place orders when ever or where ever they are.
Mobile Order Entry Solution
Incorporated Barcode Technology for scanning items
Realtime integration with AR, IC and OE
Only one Sage 300 Lanpak needed
AutoSimply Manufacturing:  Although not new a few significant updates were introduced.
New Alpha Numeric BOM's numbers are now an option
New Custom Job with Services Tracking added
So as you can see the AutoSimply team has been busy filling GAPS for Sage 300 customers, but they weren't they only one.
TaiRox continues to enhance their offerings with new updates to their Productivity Tools and a new TaiRox CRM solution.
Although technically not new the TaiRox continues to add more features to it already impressive Productivity Tools package
New Internet Integrations: Launch Google Maps, an email client or a website from dozens of locations.
SmartFinder searches for customers, vendors, items, orders, and more like an internet search engine.
Searches multiple fields and multiple tables however they are ordered.
Check out the complete list of all of the functionality included in the TaiRox Productivity Tools
NEW! TaiRox CRM fills the GAP for organizations looking for basic contact and opportunity management within the Sage 300 platform that they are already familiar with.
Track opportunities and create dozens of Excel charts to assess future sales and past performance.
Track prospect companies and promote to Sage 300 A/R customers when sales close.
Track contacts and link to their Facebook, LinkedIn, Twitter or other social media pages.
Track communications with contacts. Group contacts. Send bulk email to MailChimp and Swiftpage.
Attach network documents, internet documents and URLs to any entity. Launch with one click.
See every change to every entity. Know who has made each change, and when.
This new offering is great for small organizations that are tracking their current sales pipeline via spreadsheet, outlook or on a good dependable notebook.  If this is you, talk to us about what TaiRox CRM can do for you.
NEW!  Technisoft did not disappoint either, they showcased their new Field Connect App for tracking Service Jobs for your field reps.  Available in both online and offline modes, the Field connect app keeps the back office connected with were the real work is done.
Use your smartphone or tablet to track time, consume inventory, capture signatures, billing, scheduling, and more
Clean Look and feel
Easy to use
Integrated with Sage 300
Orchid highlighted the power of Orchid Extender and the 3 flavors that it offers.  Allowing companies to customize Sage 300 Business Logic in a number of ways:
Configurator : create custom events to alert, monitor and log changes to data. Know who is doing what within your company.
Customizer : initiate custom scripts based on Sage 300 View changes, to create if this event happens then do this action routines.
Developer : create custom tables within the Sage 300 database and dictionary, maintain custom table data using generic custom screen.  Group custom tables and scripts by Module for easy deployment. Meaning create the data structure and screens you need to track the information that is critical to your business.
What this means to you is simple.  If you have a unique requirement that Sage 300 does not solve out of the box, together with Orchid Extender we can personalize your Sage 300 instance to meet your specific business requirements.  Some limitations may apply, we are not rocket scientists, but we like to think we are as smart as one.
Other standouts included Altec Doc-Link – helping company streamline processes and eliminate paper, Highjump Warehouse Edge providing complete warehouse automation, InfoPOS and Orion POS  both providing robust POS solutions, TrueCommerce EDI streaming EDI trading and Sage eCommerce fully integrated webstore and customer portals.  We enjoyed our few days in Vancouver and hope to pass the knowledge we have gained along to those that may benefit from it.
Our job at Net at Work is to help your business grow, help you streamline your business process so you can focus on the strategy that makes you better than your competitor.  If you think any of these solutions can help you do that please reach out to your Net at Work Account Manager and have them schedule a demo.