Sage 300 Newsletter – July 2018
Keeping You Up-To-Date With Information About Sage 300
Service Manager Version 6.5 by Technisoft for Sage 300 – New Features and Highlights
By: Net at Work Team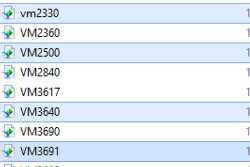 Many new features were added in Service Manager ver 6.5 for Sage 300.  We've highlighted a few of them here.  We urge Service Manager users to contact us to learn about all new features.  You never know when a new function can simplify a process or make using Service Manager a much more efficient and satisfying experience.
Examples of new features include:
This is big! Print multiple reports at the same time by separating the report file names with a semicolon or a colon.  In all screens where you see a report file name, you can put multiple file names in the box, and Service Manager will print multiple specs.  Anywhere you see the report filename, this process will work.  Browse and select multiple forms – use the control key!

A new "Cost Plus" facility has been incorporated into the existing billing proration options. This enables "Revenue" values to be a set dollar value or marked up to a margin percentage (%) based on costs.
A new "Export Declaration" field has been added to Document Invoice posting screens to support some international requirements. This value is posted to the A/R Invoice batch during day end processing.
Insertion of a "Kitting Item" from inventory control onto a document, will now ask the user if they wish to also load the components of the Kitting Item. Components are marked as hidden by default so they do not appear on the printed posting forms.
Latitude and Longitude fields for Employee's Home Address has been added to Employee setup for routing purposes.
In G/L Integration, you can use the A/P Vendor Code as a segment to pass thru to the GL Detail Reference or GL Detail Description fields.
Custom Fields are now available in the Document Requests function.
Coming Soon!! The Field Connect App is the offline alternative to the current, online only version of Field Connect. It is being piloted with an official release date to be announced very soon.
Texas is a big state.  Companies who perform maintenance on oil field services equipment may travel to many areas that have no cell service.  Using leading edge technology, like Field Connect, can be a problem if an internet connection to Service Manager is not available.  With the Field Connect App, data is synced to a Technician's mobile device and can be accessed offline for as long as needed while the Technician is without an internet connection.