Tracking Changes to Components and Operations on a Work Order with Non-Versioned Products
When changes to existing components or operations on a work order are made, it is possible to track these critical changes when using non-versioned products. In Sage X3 Version 12, two new parameters were added to the following chapter:
GPA chapter/WOM group/ TRACKMATWO – to track WO component changes
GPA chapter/WOM group/ TRACKOPEWO – to track WO operation changes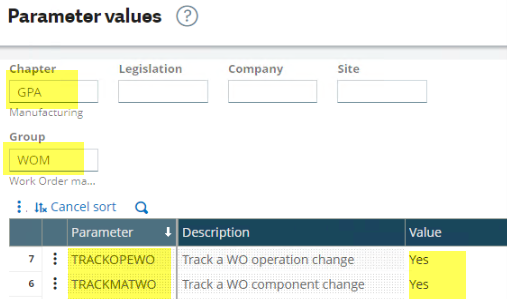 When these two parameters are set to "Yes" and changes are made to a component or an operation on a work order, the changes are recorded to the following two tables:
MFGMATREV – Work order materials audit table
MFGOPEREV – Work order operations audit table
When making changes to a component or an operation line, a "Revision reason" can be entered manually but this revision reason is not mandatory, and it can be left blank. Once a change is made, the revision can be viewed by using the Revision history action from the Actions icon on the component/operation line.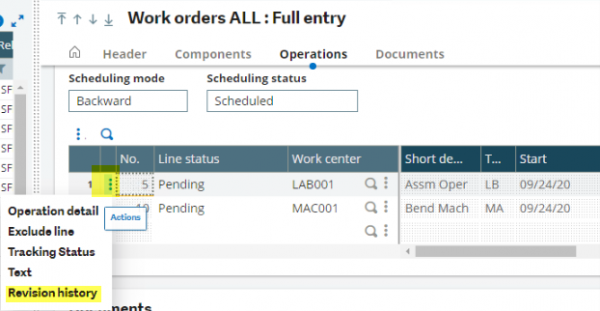 The revision history for the changes made to an operation or a component will be available after saving the changes. For example, if a new component is added, the "Revision code = Add" will show that a new component was added. However, it is not mandatory to add a revision reason for changes to components on non-versioned products. After saving the changes, the revision code changes to "Modify" and the new revision line displays the changes in red.

The top line in the revision history always reflects the current values of the changed fields in the component line. The revision history is displayed in reverse chronological order from newest to oldest.
If you have any additional questions about tracking changes to components and operations on a work order with non-versioned products, please contact us.
Note: content for this blog post was originally posted on Sage City, September 24, 2020 by Vanessa Quwar.