Highlights: Specialty & Custom Chemicals America Conference
The Specialty & Custom Chemicals America conference took place this week at Omni Fort Worth Hotel in Fort Worth, Texas. This bi-annual conference is primarily focused on the chemical technologies and products that have applications across a diverse range of specialty chemical uses, including: coatings, cosmetics, food and beverage, pharmaceuticals, plastics, polymers, soaps, textiles, and more.

In partnership with the trade association SOCMA (Society of Chemical Manufacturers and Affiliates) the 4-day conference offered a general session program highlighting key chemical industry trends with topics centered on a global trade update, keys to recruiting & retaining top talent, and best practices for outsourcing custom & toll manufacturing. The conference aims to "change the game" of how industry trade shows help connect suppliers and customers, by delivering a higher-quality business networking opportunity to specialty chemical manufacturers.
Once again, Net at Work was present as a sponsor and exhibitor, with our Sage X3 specialists there firsthand to interact with fellow attendees and highlight how our Chem at Work solution for Sage X3 addresses the unique requirements of chemical manufacturers. One of the consistent themes that came up in our conversations was around the increase in consolidation occurring in the industry, and many challenges regarding regulations and international business. This led to well-received demonstrations illustrating how Chem at Work and Sage X3 can address these challenges and help firms remain competitive in an ever-changing landscape.
The Chemicals America events are always a great opportunity to spend time with our clients and engage with other manufacturers and suppliers. The insights from the conference at-large, and those of the manufacturing professionals we speak with are invaluable to our chemicals industry team and the enhancements we continue to make to our solution.
We're already looking forward to the July conference in South Carolina!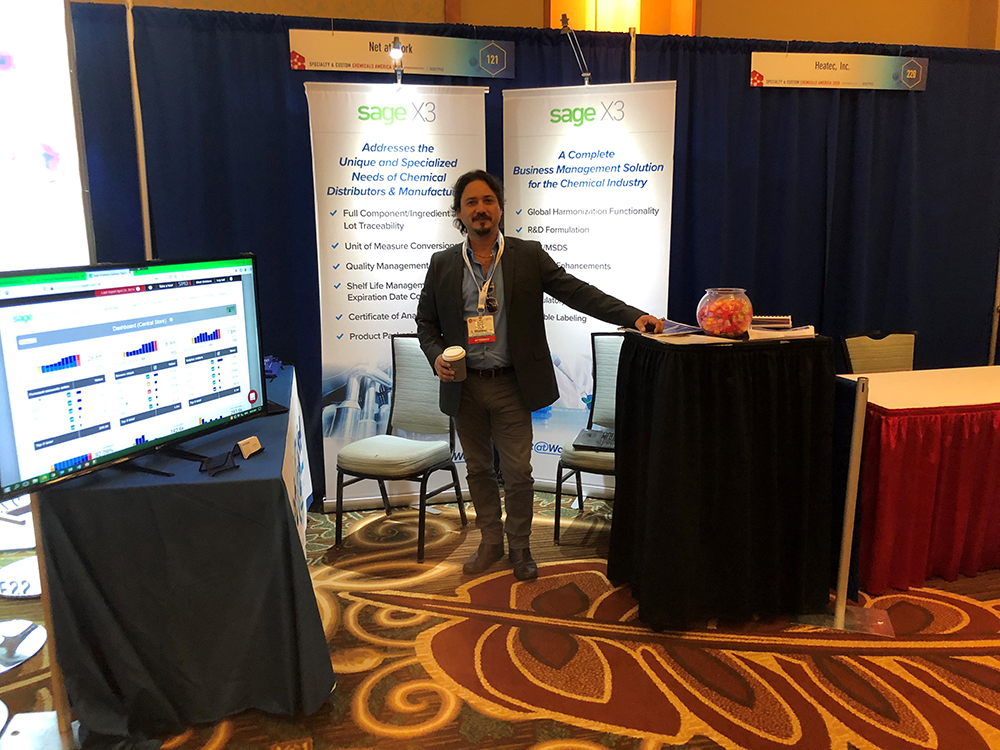 For more information about the Specialty & Custom Chemicals America show, visit their website: www.texas.chemicalsamerica.com.
To learn more, browse the resources below and see how with the right chemical management software, your chemical enterprise can streamline processes, increase profitability, and gain a competitive edge: