Employer Solutions / HRMS Newsletter – May 2017
Keeping You Up-To-Date With Information About Employer Solutions / HRMS
Six HR and Payroll Best Practice Ideas for 2017
By: Net at Work Team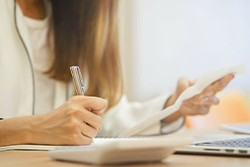 Integrating and streamlining payroll systems helps companies build efficiency and improve business strategy.
Employees represent a critical resource for performance and innovation. Finetuning your HR and payroll practices will make it easier for employees to interact with the systems.
Effective systems also save organizations time and money.  Here are six ideas for improving your Human Resource Management System in 2017.
Integrate HR, Payroll and Time & Attendance
Over time organizations often develop separate systems as the needs of the business change.  Mergers and acquisitions often bring different systems.  Over time, the links between the systems break down, leading to duplicate entry.  Consider looking at a system that combines all components into a 'single point of truth' about your employees.
Consolidate payrolls
Look at ways to consolidate your payroll processes.  If you have international branches, are they each running local systems?  Have you considered a system that would provide international options?
Review your ongoing processes.  Do you have multiple pay frequencies?  That can mean additional time and effort on the part of payroll staff and possibility for errors. How is time collected and approved? Take time to review and benchmark each step of your process and look for ways to improve.
If you find that it is time to consider a new system, seek out a trusted advisor who can offer multiple options based on your needs.
Learn to use payroll analytic tools
Whether your responsibility is Human Resources or Payroll, now is the time to embrace the 'Big Data'.  Find measurable ways to analyze the data that you have to make informed decisions about policy and procedure changes.
Adapt to your company culture
Regardless of the type of organization you manage, you will encounter a wide variety of employees with a variety of skills and needs.  Costly traditional methods of paying employees – printing and distributing paper checks are giving way to direct deposit and pay cards.  Both offer greater security.  Pay cards in particular can be an effective method if a number of your employees are unbanked.
Millennials and others employee groups require 24/7 online access to their data to be engaged with their employer.  Consider how you can deploy an Employee Self Service.  In addition to keeping employees engaged and loyal, ESS can save time answering routine questions, securely deliver pay and benefit information and consistently disseminate company policies and procedures.
Confirm your organization is 'fair, square and legal'
Seek out ways to better assure that your organization is compliant with all appropriate rules and regulations concerning HR and Payroll.  The alternative is costly in terms of fines, legal fees and company reputation with both customers and employees.  Consider best practices like internal controls  that other organizations have enacted.  And don't forget that there are many resources available to keep you up to date on trends and upcoming changes.
Technology Changes
Remain aware of the technical changes that impact Human Resources and Payroll. Cloud-based systems are no longer only for large organizations.  Systems now provide a secure, 24/7, Internet-accessible option to supported servers and an IT infrastructure onsite.  Cloud-based systems come in a wide variety of options and prices.  Some are still very much in the start-up phase, while others are fully mature and ready to serve your needs.
Working with a technology-based firm like Net at Work, our Employer Solutions advisors can help you chose the right system for you or assist in making the most of your current system.  Please contact us at NetatWork.com for more information.