Employer Solutions Newsletter – March 2019
Keeping You Up-To-Date With Information About Employer Solutions / HRMS
Gamifying HR
By: Net at Work Team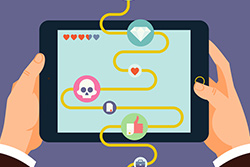 People love games. Whether it be a sport or a video game, people play games for competition, for community, and for personal pleasure.  We've played games since childhood, and in many ways experienced most life learnings by playing games.
Gamification is the act of incorporating game mechanics into non-game activities to influence behaviors. Businesses have used such techniques to drive engagement with consumers for decades.
Loyalty programs, frequent flyer miles, and reward points are all examples of how companies apply game design to non-game experiences.  It allows organizations to engage with consumers at an emotional level and provide a deeper, richer experience to the customer.
Over the past few years Human Resources has entered into the fray to deliver game mechanics into daily work, and such methodologies have increased productivity, engagement, and retention. They have also acted as great motivators and instill a friendly competition within teams. Gamification can influence behavior while driving team building to meet the needs of the organization.
In an article later within this newsletter issue, we discuss how one of Net at Work's customers, Noble Systems, utilizes gamification in recruiting efforts by incentivizing employees to provide referrals, post open positions on social media platforms, and provide added comments on open positions. The recognition system engages the employees while at the same time fills a critical business need.
How can HR up their game? The following describes common Gamification dynamics, with examples of how they might be used in the workplace.
Appointment Dynamic – This dynamic motivates by offering rewards at a certain time. Happy Hour is a great example of the appointment dynamic and has shaped American culture for decades. If a customer visits a restaurant at a certain time they are rewarded with discounted appetizers and drinks.
This dynamic can be applied to time-sensitive employee tasks, such as finishing open enrollment early or completing a mandatory training at a certain time. This dynamic can help boost participation and motivate employees to finishing tasks on time and ahead of schedule.
Influence and Status – Status and prestige is a great motivator. A consumer example of the status dynamic is the American Express Black Credit Card, which is an invitation-only status symbol. Sure, it has a $7,500 initiation fee and a $2,500 annual fee, but invitation to be a card holder is highly coveted.
For employees, offering badges and points can influence behavior to drive company success. When Wal-Mart had safety issues, they looked to a gamified safety training experience to deliver learning to employees. Safety training modules were provided to employees, and a scoreboard of the best employee scores from the training were provided to participants. Employees competed with one another to earn points, badges, and prestige which resulted in employees internalizing the importance of safety in the workplace. Wal-Mart measured the results of the initiative and saw a 54% decrease in safety incidents in its distribution centers.
Progression Dynamic – Deep seeded in our psyche is our own personal motivation to complete steps to achieve 100% completion. Companies like LinkedIn use profile completion to motivate users to add a wealth of content to their profile to achieve 100% completion. Organizations also create customer loyalty cards to offer rewards based on progression milestones (buy 9 coffees and the 10th one is on us!).
For employees, this can equate to completing steps in the hiring/onboarding process while earning rewards. Marriott Hotels uses progression games during onboarding to encourage new recruits to learn more about industry. Another example is to encourage wellness program participation. Aetna's collaboration with Mindbloom resulted in providing employees with social games aimed at improving health and wellness. Gamified activities included completing a personal "life tree" as well as tracking progress on health, lifestyle, and relationships.
Communal Discovery – This dynamic is used to encourage an entire community to work together to solve a problem. In the consumer world, Reddit's news feed is based on this method. As community members submit content users vote "up" or "down" to determine the content's position on website. Participants are rewarded with achievements for helping find and source best news.
In the workplace, this dynamic can encourage team building and knowledge transfer. At Qualcomm, employees ask and answer technical questions in a forum setting. The best answers are voted up and rise to the top of the group lists. Employees receive points for level of activity and engagement and then given badges and rewards for doing unique things above and beyond.
These are just a few of many kinds of dynamics used by organizations to deliver a gaming experience to work. Whether its increasing engagement, motivating employees to complete tasks, or solving business problems, gamification is on the rise in today's organizations.