Employer Solutions Newsletter – March 2019
Keeping You Up-To-Date With Information About Employer Solutions / HRMS
Net at Work Practice Spotlight: Fixed Asset Management
By: Net at Work Team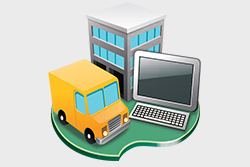 When Staff Leaves, Are the Assets Walking Too?
The number of people working remotely four or five days a week rose from 24% to 31% since 2015. When companies embrace this work environment for employees, a new challenge arises for fixed asset management.
Nowadays, remote employees can have two monitors, laptops, IP desk phones, and even tablets assigned when they are hired.   Whether it is HR or I.T. responsibility for keeping track of the issued equipment, a proven process and product is needed for better controls.
On-Demand Webinar:
Topic:
Sage Fixed Assets – Take Control of your Fixed Assets Process
Watch Here
Here are some things to look for in your current tracking process:
Issuing equipment to an employee:
Check in and Check out feature

This will enable a user to verify what's not on company property during an inventory
Easy reports for what is issued by user or responsible party
Update the condition of equipment periodically with expected return dates set
Using Barcode Property tag

Theft or shrinkage is deterred by almost 45% when a property tag is on an asset
When the asset is idle or in storage, a tag is easier to scan than serial id's
It is a quick and easy number for staff to read when remotely verifying assets
Temporary Assets issued:
If loaner equipment is shipped remotely while repairs are being made to company equipment, using an asset tracking software can help keep the maintenance records noted.
Leased equipment still has to be tracked while it is on your property. Insurance companies require inventory records up to date for any leased equipment.
I'm sure an exit interview for most companies contains a check list of company property issued. It always surprises me to hear how many people still have their "old" company property in a garage or desk because the organization had no record of it anymore.  It may be time to review your current Asset Tracking software and process.
If you would like more information, please contact:
Suzanne Pedone, Fixed Asset SME
spedone@netatwork.com  727-897-8532