Sage 300 Newsletter – October 2015
Keeping You Up-To-Date With Information About Sage 300
Don't Get Caught with the Incorrect W2 Forms!
By: Stephanie Hanger, Sage 300 Business Consultant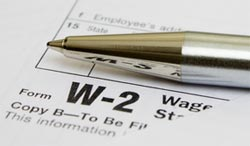 For payroll clients planning for year end and the needed payroll upgrade, most are also preparing to order their W2 forms.
As Sage no longer supports payroll version 6.0, along with this change, the pre-printed 2-Up or 4-Up W2 forms have been phased out.
One must order blank 4-Up perforated forms. This also eliminates the need to order separate red W2 Copy A (Federal Copy) as Aatrix has authorization from the IRS (authorization letter available upon request) to print the entire W2 Federal Copy A on plain paper in normal black laser printer ink. Sample blank forms are available for review or ordering at www.SageChecks.com.