Sage X3 Xperience
Enhanced Sage X3 Service Experience Through an Annual Subscription
Recognized as the Top Sage X3 Partner in the US, Net at Work is uniquely qualified to provide you with the best possible customer Xperience while delivering the most value from your technology investment today and in the future.
Our Xperience Service Plans include white-glove customer support along with the right mix of tools and access to expertise. We manage your ERP system so it will always exceed your expectations. By proactively monitoring, performance tuning and testing your system regularly, we circumvent the larger issues and keep your system, and your business, running optimally.
---
---
Our best-in-class response times and deep industry knowledge offer unparalleled value and peace of mind resulting in a service Xperience like none other.
What You Can Expect from Our Xperience:
Mission-Critical Support
From your consultant—not the helpdesk. Get the support you need at the speed you expect for whatever issues arise.
Actionable Analytics
In the form of new dashboards, reports, or inquiries throughout the year that provide actionable insights that empower users and improve overall business performance.
Annual Upgrades
For customers hosted with Cloud at Work, we'll upgrade your Sage X3 software annually. Upgrade your technology without upending your budget.
Discounted Project Hours
Save 10% on service hours for any extra consulting, optimizations, and developments you do with Net at Work for Sage X3 or any department of Net at Work including HR, CRM, eCommerce, and more.
Expert Guidance
Our deep bench of business and technical experts gives Xperience customers exclusive access to advice and best practices to help you drive adoption and get the most out of your Sage X3 investment.
Business Process Optimization
We'll review your critical business processes and their impact on short- and long-term goals, then suggest efficiencies to transform unproductive routines into highly optimized processes that drive success.
Guaranteed Deliverables
Any project we do comes with a fixed scope and price and an unlimited warranty to cover any issues that come up post-deployment. No more time and material on projects!
Why More X3 Users Choose Xperience
Our Sage X3 Xperience Team is a team of problem-solvers and promise-keepers. With a strong focus on client care, our Sage X3 Xperience team is a highly trained, experienced group of solution architects, project managers, developers, and consultants that help companies solve their toughest technology challenges by drawing from decades of real-world experience in the industries they are now advising.
Our Promise to You
You're not Just a Number
Here, you'll always be treated as more than just a number. We take the trust you place in us seriously and personally. It's the relationships we form that allow us to partner with you to truly unleash the power of your business.
Consultants with Real-World Expertise
Our consultants draw from decades of real-world experience in the industries they are now advising– so they know your business.
The Help You Need, When You Need It
We know that we are supporting your business-critical applications and if there is an urgent issue, we need to move now. We're available at all hours – when you need us, we are there.
Local Assistance Just Around the Corner
There are times when you just need that "local" presence. With experts in 35 states and 18 offices throughout the U.S., there is always someone that can come to you.
Advocating on Your Behalf
As the largest Sage partner in the US, when we talk, Sage listens. We escalate mission critical issues with incredible success working with the appropriate teams at Sage.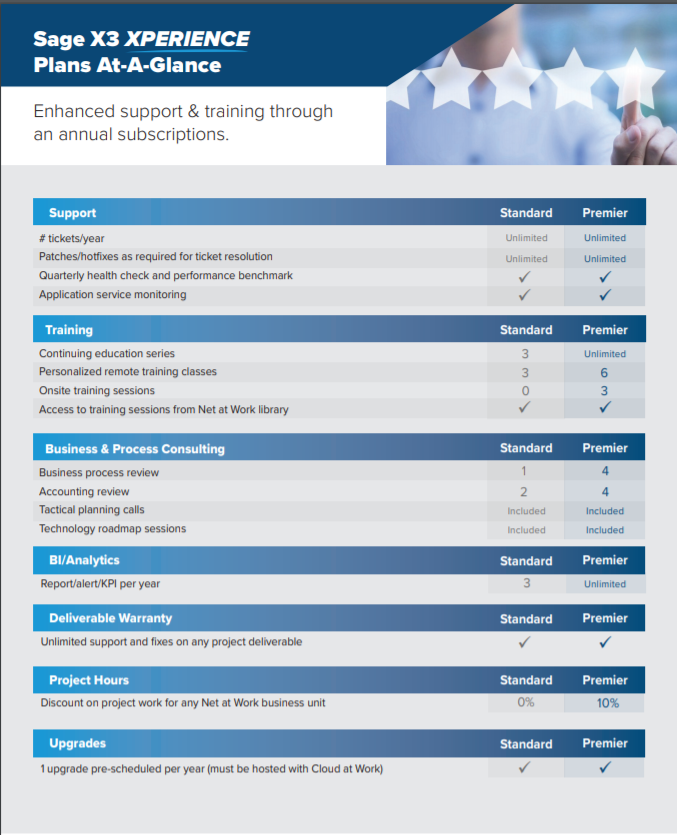 To download the complete Sage X3 Xperience Service Plans brochure, click here.
For more information about how Net at Work can help unleash the power of your business or for any questions regarding Sage X3, please contact us.